Time to 70: 18 days, 22 hours, 53 minutes, 57 seconds
I used to see guides that would indicate 10 days to 70, but I soon realized that was played time. I started playing on December 28, and leveled on April 11… Thats 106 days… or approx 4 hours of played time per day… I didn't start out with the goal of leveling to 70 by a certain date, it just sort of happened. While it is nice to achieve this milestone, that is a whole heap of time. I can honestly say WOW is a game like no other I've played. It feels like I've played three games already, and there is much more yet to come. My expectations were much different three months ago then they are now. I thought I would take some time and share some of those thoughts…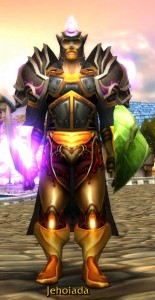 On being a Paladin…
Loving it. I was pretty sure it was the class I wanted to play when I started, and I haven't been disappointed. I did take some time at the start to do research on how to play the class, and that really helped a lot. The versatility of this class is awesome, and I've played all three roles with great success.
On playing on a live server…
Yes there are annoying people to be sure, but I've come to appreciate the social aspect of the game much more than I thought I would. Let me be clear however, that I still see no value in forging relationships past the game
**
On Professions…**
Blacksmithing is definitely underwhelming. Even though I've made well over 1500g as a sub 70, it wasn't at all like I expected. I mean… rods… How boring is that? I haven't sold a SINGLE piece of armor or a weapon for over 10G, and most of the time I don't even bother. As for being a personal armorer, it's been dissapointing as well. Most of the good recipies are drops, and are usually much $$ on AH. Then you get
into outrageous mat costs. I mean… who the heck wants to round up 20 arcanite bars for a pre60 item? Until I got to outland blacksmithing was a joke past level 40. Blizzard should have cut the mat cost for those items by 75% once BC came out.
On PvP…
Blizzard was definitely right when they said that it will be tough for a while, then get better. There was a time when I could have quit the game it was so frustrating. I found that instances really help with avoiding it too. And while I hate getting ganked, it's fun to do it. That being said, I try to be reasonable when I do this. One kill is enough… there is no reason to camp unless some further agression as taken place.
On paying a monthly fee…
Yeah, I guess it's worth it. There is so much going for this game, and with a high investment of time, I think it is good that Blizzard is vested in making the game as worthwhile as possible. However, I think something needs to be done with casuals. If you play only 5-10 hours a week, you should NOT have to pay the same fee as someone playing 50+ hours a week!! That doesn't mean that blizzard has to charge an hourly rate, they could have a few simple tiers. Another big gripe is availability. If you are paying for a monthtly service, you should demand accountability and availability of your service! Would you put up with your cell phone not working or you cable going dead several times a week? Granted, this hasn't been a problem yet, but I think we deserve a higher level of service. At the minimum, any downtime during the day should result in a free days credit of play… it's only fair.
On lack of storyline…
I can't believe that they couldn't come up with in-game cut scenes like they did in warcraft III. I don't understand any of the current lore because I am simply not interested in reading it online. Warcraft III had a great model (cheesy, but good), which would have added a lot to this game in my opinion.
**
On time to level…
**
Too long. While I had a lot of fun getting here, I cringe at the thought of doing it with another character. I like playing through a game 3-4 times with different characters, and this is simply not realistic with WoW. I've gotten at least 2-4 Diablo II characters to the 40's-60's. It doesn't help that the content can be very repetitive. The only purpose of a game it entertainment… is Wow more enjoyable because it takes so long to level? I think not. 100-200 hours would be a better story. I realize that things are better now, but frankly that was a strong point when I decided not to play wow before patch 2.3.
**On my favorite zones…
**
Tanaris looks awesome… so do most of the blood elf zones. I really like Azshara too, unfortunately hardly any quests there. I think I like nagrand the best
On Traveling…
So much better in outland. seriously, Azeroth is a joke. While it's cool for a bit, and instant travel everywhere would change the gameplay, it takes far to long to get anywhere in the old world. I've thought that the hearthstone should have a 30 min timer, and 2 possible zones – a main city and then a smaller city. Since level 40, I've always had my hearth set to a capital city. Why not have a secondary option as well?
On Instances…
Why didn't I discover them earlier? These are hands down my favorite part of wow. It is the only place where there is any true sense of teamwork/cooperation. BG's simply aren't it, and for a simple reason: there is no shared accountability. If you cause a wipe during an instance, people are mad at you. If you leave early during an instance, you know people think you're a jerk. So for the most part, people recognize this, and they get their act together and work as a TEAM, which is remarkable since ultimately there is not real-world accountability. Instances are always a challenge (in a good way), and provide for a good deal of gameplay tension. A hallmark of a good game is that it keeps you on the edge of your seat, and I've found that instances provide this again and again. Not to mention good loot and XP, what's not to like? I've done one instance since hitting 70, and It was still a blast without any real personal gain.
On Personal Life balance…
I haven't been playing computer games much since 2004… So wow was a bit of a renaissance for me… I am going to gradually tone down play to the point where I'm playing less hours per day. I have other interests I want to pursue as well that I haven't been…
On What's next…
Going to see. I'd like to get my full S1 PVP set, and there are some craftable items I'm looking forward to. I'm going to stay a tank until the rest of the guild is up to 70, then I will probably switch back to dps. Wouldn't mind getting my foot in the door for some raids, but I wouldn't pursue this until I have my "welfare" epics and get a sense of what life is like as a 70. the daily's look promising, hopefully they don't get boring. I'm actually hoping now that WoTLK doesn't come out until late this year or next year…
Oh, and stay tuned for… Warbiking!